Guy Presseau
Certified Real Estate Broker
Guy Presseau inc.
Properties
---

Loading
Testimonials
---
Serge and I would like to take this time to commend you on the sale of our house. You are an exemplary Realtor. You treated our sale with the utmost professionalism. You showed our house many times and we feel that it is a great compliment to your advertising. We were very happy with the house exposure through your Websites and that of Remax. You have always been very honest, direct and very dependable. Every phone or e-mail that we sent to you was always returned quickly. Serge and I feel you went above and beyond what we expected. We both would highly recommend your services to anyone that is interested in buying or selling a home. Sincerest thanks!
Not once, not twice but now for a third time.Thank you very much Mr. Presseau for the sale of our house, it was, for the 3rd time, an experience of professionalism, of confidence, but especially friendly. We wanted to thank you for your listening and the understanding of our expectations, we will not fail to recommend your professional qualities to those around us. Lise et Yves Saint-Jérôme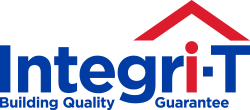 The key to solving latent (hidden) defects.
The Integri-T plan is a guarantee offered to buyers and sellers who want peace of mind in the event of latent defects. This unique coverage exclusive to RE/MAX provides financial protection to buyers and sellers in case of a claim.
Learn more